For reviews of this title, special events and further details go to the dedicated website:
www.themeditationlifestyle.com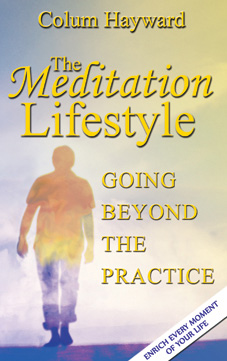 THE MEDITATION LIFESTYLE

HOW TO ENRICH EVERY MOMENT OF YOUR LIFE

- Colum Hayward

Meditation is often linked to spiritual 'highs' but in fact offers a path bringing strength and richness to every minute of the day. To live entirely in the moment is one of the most subversive things you can do, and this vibrant book tells you how! It does not commit you to any religion but it does make you connected to the whole of life. With it, a new 'you' develops: gentle, appreciative, sensitive to others, full of inner fire, strong before the winds and waves of life; a non-violent warrior for truth.

So this unconventional book begins by having you standing in your own truth, not contempating your navel. It offers tips for the meditator and shows how easy the practice can be, yet it is not so much about how to meditate as how to apply it; how to make sure that every moment of life is lived to the full.

Modern studies by neurologists show that what happens in the brain during meditation is unique and has the power to change the brain's way of ordering experience. It also has known advantages for health. Colum Hayward takes as his starting point this clear evidence that meditation is a real form of experience whose regular practice can change everyone's life. He shows that by meditating you can feel safe and therefore better able to deal with others and the challenges of life. You can deal with daily existence better.

He shows how you can recognize and enjoy every moment you live, from the moment you accept the new breath through to the moment you release it. He teaches you how to draw vitality from your spiritual practice and use it in life, and he points to the life that you will want to lead when your practice deepens: one that does not damage the rest of life, and rests happily coexisting with the external world. Ultimately, he says, the one who meditates knows a consciousness so strong that death loses its power and fear is no more.

978-1-905398-26-3
Body, Mind & Spirit/Self-Help
£8.99/Paper
144 Pages
178 x 11 mm
1 September 2012

About the Author
Colum Hayward is the grandson of one of the earliest Western proponents of meditation, Grace Cooke. Teaching it for 30 years, Colum has come to see it as a set of skills that can be learnt one by one, so that the process is real and the practice actually works. Other works include Eyes of the Spirit: Working with a Spiritual Teacher, a long historical preface to Arthur Conan Doyle's Book of the Beyond, and contributions to The View and The View Beyond, about the legacy of (respectively) Sir Arthur Conan Doyle and Sir Francis Bacon; a third volume is in preparation: The Cathar View. His style is immediate, personal and engaging.
Reviews
David Lorimer
Many readers will have a practice of meditation, and this book will help you go beyond that practice to enrich your experience of living. Based on the experience of 30 years of teaching, the structure of the book addresses a number of themes such as strength, beauty, happiness, energy, health and wholeness. The introduction by businessman David Barclay stresses that meditation is for busy people as a means of addressing the dangers of this very busyness by giving the brain a break and discovering a sense of contentment. The author assumes that meditation is in fact a constant activity and provides many useful exercises. After all, the quality of our everyday state of mind is critical to our sense of wellbeing. It also puts us in touch with the deeper silence that helps us develop a real presence, which the author illustrates with a story about a radiant Buddhist monk.
(Scientific and Medical Network Review)