THE VIEW

From conan doyle to 'conversations with god'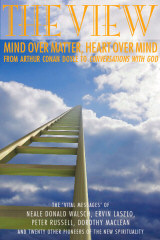 The 'Vital Messages' of Neale Donald Walsch, Ervin Laszlo, Peter Russell, Dorothy Maclean and others in celebration of the 150th Birth Anniversary of Sir Arthur Conan Doyle
TWENTY-NINE influential thinkers present their own 'vital messages' about the growth that is going on and the growth that must go on as we move fully into a new world consciousness. Symbolic of the changes is the year 2012, the year the ancient Mayan Calendar simply ends. THE VIEW suggests that it is probably best to think of it as the symbol of a new beginning and adds much to our understanding of this watershed, beginning from the simple question, 'How do we take charge of our change?'.
THE VIEW also offers a look forward and back at what has led us to the brink of a new spirituality in life - 'heart over mind': the movement that was once called simply 'the New Age'. It begins with one of the world's great pioneers. In 1919 Sir Arthur Conan Doyle published a call to the world to take up the challenges death and the afterlife offered, and acknowledge a spiritual framework wider than any church then offered. He called his book THE VITAL MESSAGE, and from the start he made at changing people's consciousness much of the inspiration of other writers has unfolded.
The 'Aquarian Age', another term for our evolving consciousness, is radical in its ideas: distrustful of large organizations, thriving when it works in small groups, respectful of diversity and counter-cultures. It is also faced with dramatic new problems - sustainability in a threatened world, for instance - and huge intellectual opportunities, such as the new physics. THE VIEW makes it plain that while we may harness science, science cannot do without the simple human understanding that comes from the heart. The new spirituality is thus personal, but it is authentic.
Contributors include Neale Donald Walsch, Peter Russell, Ervin Laszlo and Roger Straughan, also Conan Doyle biographer Owen Dudley Edwards
"Nothing can now prevent us from reaching that wonderful land which stretches so clearly before those eyes which are opened to see it." - Sir Arthur Conan Doyle
978-1-905398-18-8
Body, Mind & Spirit
£11.99/US$18.95
Paper
288 Pages/234x156mm
Buy The View GBP

Buy The View USD

Reviews
"An essential read for anyone interested in the future of humankind and spirituality," - Kate Hartley, KIndred Spirit
About the Editor
Editor Dave Patrick moved from corporate business to natural healing and lives in Scotland on the Moray Firth.