THE VIEW BEYOND

SIR FRANCIS BACON: ALCHEMY, SCIENCE, MYSTERY

- Dave Patrick, editor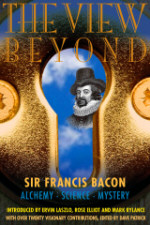 THIS BOOK CELEBRATES the vision of Sir Francis Bacon on the 450th anniversary of his birth - as man of alchemy, science and mystery. It has great implications for our generation, since Bacon lived at a time before the split between religion and science took place - a period before the triumph of the materialistic model. Four and a half centuries later, that model is itself beginning to look very frayed at the edges, not just because of the revolutions in physics, but because of the discoveries of neuroscientists that we have the ability to change the shape of our own brains by our consciousness, independently of the brain itself, and the acknowledgment of medical researchers that consciousness also has a role to play in whether or not we heal.
For that reason, Bacon is suddenly much more interesting. If there is something besides a materialist model to understand, what else might it include? Francis Bacon did not have our problem, and for him all sorts of elements made up human understanding. He set out a great plan of what that understanding might consist of, and called it the great instauration. It is relevant once again today.
Bacon was one moment alchemist, the next an architect of scientific method. He was, maybe, also an esotericist: one privy to secret wisdom, a member of a secret group. Exponents of this theory about Bacon believe part of his great instauration was as dramatist, and that he wrote all of Shakespeare's plays. Whatever is true about the theories surrounding Bacon, they are at least fascinating, and his biography is a veritable treasure hunt. Was he, as Jean Overton Fuller asserted, the child of Elizabeth I and Leicester?
Contributors to the view beyond include John Henry and Nick Lambert, academics in the history of science and the history of art, alongside esotericists Peter Dawkins and James North There are contributions that would puzzle Bacon himself much less than historians today - on his astrological chart, for instance. There is an amusing look at one of Bacon's biographers. Modern esotericism has a look in through the legacies of Theosophy and Rudolph Steiner. The supposed fringes of modern science seem for a moment as though they are mainstream, but there is a critical element too, a note of caution. A final section returns to the utopianism of Bacon's the new atlantis, with a major question for us all.
Contributors include Bacon specialists John Henry and Peter Dawkins, astrologers Simon Bentley and Phillip Lindsay, and writers from Theosophy, the Lucis Trust, the Rudolf Steiner movement, Britsh Dowsing, Spiritualism and the White Eagle Lodge, as well as Birgitta Jónsdóttir from the Icelandic Parliament and members of the Francis Bacon Society.
978-1-905398-22-5
Body, Mind & Spirit
£12.99/US$19.95
Paper
176 Pages
6 x 9 1/4 inches
1 March 2011
Buy The View Beyond GBP

Buy The View Beyond USD

Reviews
***** (five star recommendation)
The 24 contributors present an in-depth analysis of the 16th century English philosopher, author, scientist and politician.... Providing a platform for deeper analysis of many aspects of our lives this book is inspiring, well-written and profoundly informative. - Kate Hartley, Kindred Spirit
Full list of contributors •••
Simon Bentley
Grace Cooke
Peter Dawkins
Michael I Finesilver
Mark Finnan
Mark Harris
Sylvia Francke
Colum Hayward
John Henry
Birgitta Jónsdóttir
Nick Lambert
Phillip Lindsay
Richard Merrick
Steve Nation
James North
Kathleen Pepper
Frank Perry
Leslie Price
John Waterman
Peter Welsford
Tim Wyatt

About the Editor
Editor Dave Patrick also compiled the very popular companion volume the view, on the legacy of Sir Arthur Conan Doyle. He lives in Nairn, Scotland.