The World Outside meets the World Inside
THE WORLD IS IN MY GARDEN

USING GARDENING ISSUES TO ILLUMINATE UNIVERSAL CONCERNS

- Chris Maser, with Zane Maser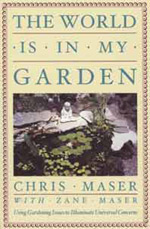 The garden, since first conceived, has been a microcosm of the world outside. Chris Maser shows how every issue that comes up as a choice for the gardener comes up in a greater way in the world around. By the choices the gardener makes, he or she is influencing how the world - socially as well as environmentally - unfolds. The choices are person makes are important.
Zane Maser, another participant in the garden, takes this further, and treats it a place in which we can go within and find peace.
This book is magnificently re-empowering - as well as packed with information. We also become very attached to the central character: the authors' own domestic garden, humble but well-kept.
978-0-9545389-0-3
Body, Mind & Spirit /Health & Fitness
£10.99/Paper
288 Pages/186x123mm
Illustrated with photographs and line drawings by Leslie Edgington
For copyright reasons this edition is not for sale in North America
Buy The World Is In My Garden GBP only

Reviews
This book, some three hundred pages long, is ideal reading for the ecologically-orientated gardener. The authors provide us with many valuable lessons in how to work with Nature. They feel strongly that we are a part of Nature and stress that we are equal to, but different from, other species. The concept of trusteeship is central to the authors and they attack the notion of absolute property rights, citing Locke. There are some interesting ruminations on death and speculations on peace. Buddha, Lao-Tse, St Teresa of Avila and Einstein are among the many great thinkers and mystics discussed. New Vision
The garden has often been likened to a microcosm of the world outside. Chris Maser aims to show how each choice and decision made by the gardener influences the world outside, socially and environmentally. Yoga and Health