NOW WE'RE COPING
- Chris Sangster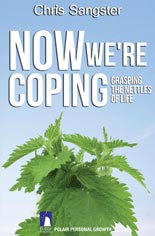 Holistic strategies for coping with life's challenges. This book combines spiritually-based exercises with real-life and business-based experiences, and considers a wide range of techniques, applications and philosophies. Whether you are facing hospital or coping with debt, struggling with chaotic family relationships or seeking just to find time to be yourself, this is the book for you.
It is based on the belief that a focus on the present, alongside a positive future strategy, helps each individual better cope with the vicissitudes of life. Readers learn to take personal control of their life situations by experimenting with the variety of points of view offered and the subsequent action they take.
Special offerings from this book include how to use sound to help you, and targets of 'best practice' from the enlightened management philosophy of today. The later chapters focus readers onto evolving their own personal self-help strategies, either generally or to meet specific challenges – and indeed grasp the nettles of life.
Chris Sangster is a qualified teacher from the UK who has spent the majority of his working life delivering adult and business training. He is also ITEC qualified in massage therapy. As well as writing several books, he also creates and performs poetry. Through involvement in matters spiritual since the late Eighties, he now spends time applying this through sound - in healing, team development and multi-instrument sound baths for meditation. For further details, see his website, www.the-integrated-triangle.com.
Another volume in the Polair Personal Growth series
Publication date: 1 June 2013
978-1-905398-30-0
Self-Help, stress management
UK £8.99, US $14.95
198 x 129mm
176pp, paperback