Few words... Just quirky, amusing and wise pictures
MEDITATION IS...
- Bodel Rikys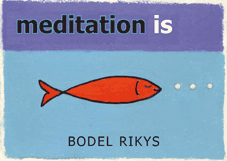 Some things are hard to explain in mere words, and meditation is one of them. Sometimes, what it takes is an artist of humour, skill and originality. Bodel Rikys is such.
In a series of drawings with minimal words she has created memorable images. Memorable because they are both profound and quirkily funny. Memorable because, gently, they actually instruct us in the practice of meditation. Indeed, you can meditate just by studying this book - and laugh too!
Bodel has created the outstanding book for the Self-help and MBS gift market.
A meditation teacher and professional artist, Bodel has always been particularly interested in making meditation accessible and enjoyable. In MEDITATION IS..., her artworks do just that.
978-1-905398-14-0
Body, Mind & Spirit /Gift
£4.99/US$6.95
Paper
64 Pages/148x105mm
Every page illustrated in four spot colours by the author
Buy Meditation Is... GBP

Buy Meditation Is... USD

Reviews
Of the MEDITATION IS... drawings, William Bloom, author of THE ENDORPHIN EFFECT and sometime director of Alternatives at St James', Piccadilly, wrote: I like them all. They're very unusual in that they are cute, and also wise and intelligent.'
About the Author
Bodel Rikys is a meditation teacher of considerable originality in her native London. She is also an author/illustrator with four children's books to her credit including the popular 'Red Bear' series. She has illustrated Incense and If I Change, So Can the World for Polair