*** NOW IN NEW EXPANDED EDITION ***
HIMALAYAN SOUND REVELATIONS

THE COMPLETE SINGING BOWL BOOK
Second edition - expanded
Frank Perry
This is the book on singing bowls we have waited for. Frank Perry was there from the beginning, from when the first bowls became known in the West in the early 1970s, and he has been with them ever since, making in all 105 different recordings, most of them featuring bowls. Covered in this book are no less than 250 different styles of bowl and over 100 techniques of drawing sound from them. Frank covers the wands and mallets used and how to choose them, associated instruments like ting-sha and drilbu, how to look after your bowls and what to watch for when buying them.
Most of all, though, this is a book about developing listening and the experience that goes with the bowl. Frank helps you identify the whole range of partials that are to be heard in the bowls sound, and this is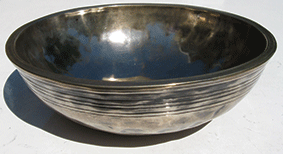 supported by careful acoustical analysis. Every sound you make from every bowl, though, is a meditation, and Frank helps you understand what you are listening to and what you are connecting with. That may be one of the meditation Buddhas, or it may be a planet or star, or it may be a stimulation in one of your chakras. It is all here – the ability, indeed, to make bowls the basis of your spiritual path and know yourself better.
It also offers bowls as a path to the healing of self and others. Among the many gems in this book are cymatic photographs by John Stuart Reid of the sound patterns created by the bowls, and he writes, 'Frank Perry is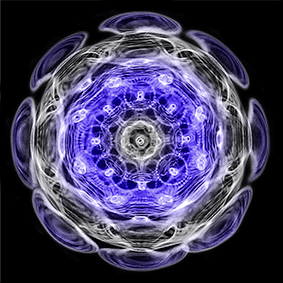 one of those rare people who are totally committed to a subject and pursue it with such great passion that it inspires others'. Sound healer James d'Angelo writes, 'No other book in the field of working with sound for healing and spiritual development is as knowledgable, penetrating and comprehensive as this'.
ISBN 978-1-905398-32-9
512pp + 8 pp in full colour
October 2016
£19.99
Buy Himalayan Sound Revelations GBP

Buy Himalayan Sound Revelations USD

Reviews
"My journey into the world of Singing Bowls began in 1973.…. But the only book that I will recommend on this subject is Himalayan Sound Revelations by Frank Perry"
Mitch Nur
---
"Frank Perry's Himalayan Sound Revelations is a masterpiece of writing about the nature and power of pure sound as encoded into the consciously constructed instruments of the East. No other book in the field of working with sound for healing and spiritual development is as knowledgable, penetrating and comprehensive as this great tome. Contained within these pages is far, far more than an exploration of every aspect of singing bowls, instruments that Perry literally knows inside out through his enormous collection and varied use over many years of practice. Each chapter is an in-depth study of what the bowls have to offer in relation to ancient symbolism, yin/yang shapes, astrology, chakras, mantra, nada yoga, overtones. cymatics (wave fields), planets and musical temperament.
Along the way we are given much knowledge of these topics in and of themselves – for example, the use of the voice. The book balances perfectly the historical, theoretical, spiritual and practical sides of these profound instruments and their metals. Very helpful in absorbing Perry's wisdom are the many illustrations, photographs, tables and diagrams. What especially sets it apart is how Perry places them into a spiritual, historical context such as no other text has done and thus makes the bowls (and bells) living, breathing entities.
The tome is scholarly but not in an academic sense. It is simply thorough and the writing is clear, direct and substantial without unnecessary digressions. Thus Himalayan Sound Revelations will appeal both to those who wish to make practical use of singing bowls (choosing them, playing them properly and even caring for them) and those who would like to understand the historical context of the bowls and their role in healing and spirituality. Himalayan Sound Revelations is truly a universal work of a music master. It is bound to become a classic and belongs on the shelf of every serious student of Eastern music, meditation and spirituality."
James D'Angelo, author of The Healing Power of the Human Voice and Seed Sounds for Tuning the Chakras
---
From Alain Presencer, pioneer of the study of singing bowls and their sounds:
"This book is without doubt the seminal book on these mystical Tibetan instruments. The book offers a comprehensive contribution to the emerging scholarship on this arcane subject.
Masterfully edited and presented it offers an accessible account of Frank Perry's spiritual and musical journey and is very deserving of a wide readership and listeningship. Too often the practices related to the "bowls" have been studied from the perspective of the Western experience who have advocated and promoted their curiosity, this is understandable since most of our sources have come from that very Western experience.
What Perry has been able to do is inject the value of profound religious practice with innovation and experimentation. The book is a triumph."
Dr Alain Presencer FRAS (uploaded to Amazon.co.uk)
---
BOWLING WITH ANGELS;
Merlyn Driver struggles to separate man from musical instrument.
Himalayan Sound Revelations: The Complete Singing Bowl Book by Frank Perry.
Polair Publishing, 2014. ISBN: 9781905398317
"When my parents purchased a singing bowl many years ago, I remember being quite disappointed that it didn't sing actual songs. This disappointment quickly gave way to a curiosity and respect for the noises that it did make. Stroking around its rim with a small wooden stick, or 'wand', one could excite the bowl to produce a peaceful hum that slowly grew to fill the room. I have always retained a certain intrigue for singing bowls, and so I was excited to come across something claiming to be "the complete singing bowl book".
Frank Perry is one of the leading practitioners of singing bowls, as well as a successful musician, artist and healer. Having previously played as a jazz percussionist in several bands, he has subsequently used his solo work to explore spiritual interests. It was in this way that he became involved with singing bowls. Although doubts remain over their precise history and use, such bowls have long been associated with meditation and pre-Buddhist shamanic traditions dating back thousands of years.
Himalayan Sound Revelations is a readable account of the author's experiences with singing bowls. It covers not only bowls and the techniques used to play them, but also Chinese bells, and other traditional instruments such as the drilbu (Tibetan handbell) and the ting-sha (small, paired cymbals). Perry also draws inspiration from his own spiritual beliefs relating to esoteric Christianity, chakras, astrology, and a range of other elements. In the first chapter, he explains how a Tibetan "spirit helper", who lived thousands of years ago, visited him and imparted traditional wisdom about the bowls. Not all his inspiration, however, comes from such unusual sources. He goes on to direct the reader to a video on YouTube featuring an acclaimed Zen master.
The book contains an admirable level of historical investigation. Tracing the origin of bells, for example, Perry takes us to China, where the earliest civilisations used bells for purposes both sacred and profane. The oldest tuned bells to have been excavated date back to around 2000 BCE. Wind bells, Perry explains, were once hung outside homes and temples as protection from evil spirits.
Despite the depth of Perry's research, one of the book's weaknesses, for me, is the extent to which his own unique views on spirituality and esoteric religion become entangled with the main subject matter. When working with the four elements (earth, water, air and fire), for example, he tells us that "we must be ever mindful that these [elements] are governed by angels and that these angels are God's servants." "We can ask the Lord", he continues, "to send his angels … as we stroke the bowl." He makes these statements in such a matter-of-fact way that it becomes difficult to ascertain where his own opinions end, and where the true story of the singing bowl begins.
While Himalayan Sound Revelations is undoubtedly a thought-provoking book, it is, in some ways, perhaps more revealing of the inner workings of the author than it is of its subject. Although it contains a wealth of valuable information on the sacred instruments of the Tibetan region, it is not, as it claims to be, the "complete" singing bowl book, but rather the story of one man's love affair with these intriguing objects. In particular, it tells how singing bowls helped the author explore different aspects of sound, healing and spiritual development. Whether or not you agree with all of Frank Perry's ideas, it is clear that singing bowls can provide an ideal space for contemplation."
Merlyn Driver is a London-based musician who has spent time in the Norwegian Arctic studying traditional music and religion among the Sámi people.
Resurgence, November-December 2014
---
Format: Paperback
"I have followed Frank Perry's career and music for many years, and have read and reread all his writings on his website to learn more about the mysterious world of sound healing and singing bowls. Now Frank has taken over 40 years of his personal sound journey and put it into this almost 500 page book. There is much to learn here.
For those who don't know of Frank, he is one of the (if not THE) experts on the use of singing bowls, gongs, and ritual objects for both meditation and sound healing. Starting as a jazz and blues drummer in the 1960s, he moved into improvised music, and eventually work as a solo musician with a massive set up of the afore mentioned metal instruments. He has been working with, and investigating singing bowls for over 40 years.
The book is written in an easy, personable style, very much like Frank is talking to you. While he delves into the science of the sound and acoustics of the bowls, it never reads like a dry text book. The book starts off with an introduction to the use of sound (bells & bowls) historically in China, Nepal, Tibet, and the whole Himalayan region. The historical information here is important in the context of the use of the bowls over these many centuries.
From there, he goes into how to choose bowls, how to play bowls with different techniques, and then gets into detail about the many different types of bowls. In addition, there are exercises on how to obtain different sounds and harmonics. The book also gets very deep into the spiritual side of things, as the reader will find that spiritualism and the bowls are inseparable. One does not have to prescribe to any sort of religion or spiritual belief to understand what he's writing about, but again, the historical context of the ancient Bon and Buddhist beliefs is very intertwined with the story of the bowls.
Franks describes and classifies some 100 types of bowls, describing both their appearance and their sound. He also devotes a section to cymatics, or pictures of the sound wave patterns created by the bowls. These do well in illustrating what is actually happening with the sound and the bowls. There are also many charts that show an analysis of the tones/harmonics from different bowls, which aids in understanding how the types of bowls differ in the sounds/effects they produce.
Along the way, he tells many personal stories of his experiences and the people he's met. He also relates stories told to him by others. These stories help fill in the "missing" information about the bowls. Additional information can be found on both his website ([...]/) and his YouTube channel ([...]) where he has a series of videos that go along with this book.
In conclusion, if you are a sound healer, a personal bowl user, or even just have an interest in these fascinating instruments, this book is for you. Frank Perry has done a fantastic job of gathering up thousands of years of information and presenting it in an easy to read and understand format. Highly recommended!"