"Write about us", said the angels'
HAND IN HAND WITH ANGELS

A book of attunement

- Kathleen Pepper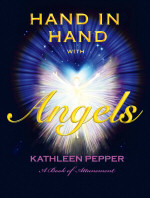 Hand in Hand with Angels takes the reader step by step through a growing process of co-operation. You can begin a daily communication with your own personal and family angels as well as angels in your workplace. It offers methods of communicating with landscape angels and angels of the environment, and helpful reminders of how our forebears have experienced angels.
The book offers meditations and exercises for developing consciousness along with techniques for working with the angels of the plant and crystal kingdoms, the archangels and others of the angelic hierarchy, to bring about peace and healing for ourselves, for each other and for the environment.
Each section is accompanied by clear visualizations and attunements, techniques that help the reader to establish the partnership with angels clearly and safely, and develop confidence in it. You might call it team building with a difference!
When people and angels again work consciously together, says Kathleen, there will be a new Golden Age. Her book enables each of us to be a part of that process.
978-1-905398-21-8
Body, Mind & Spirit
£12.99/US$19.95
Paper
176 Pages/246x186mm
Photographs; artwork by Morgan Hesmondhalgh

Buy Hand in Hand with Angels GBP

Buy Hand in Hand with Angels USD

Reviews
'A wonderful publication … an Aladdin's Cave of information' Light
To take note of the spiritual world around us allows us to more effectively bond with the world as we know it. "Hand in Hand with Angels" is a powerful spiritual read as Kathleen Pepper encourages readers to bond more effectively with their own personal angels, use their guidance and push themselves forward to find a much greater level of happiness for themselves and make a difference around them as well. "Hand in Hand with Angels" is a strong pick for spirituality collections, not to be missed.
Midwest Book Review, March 2013
"I love the title because it implies a comradeship and an equality that people often overlook. Full of commonsense wisdom and beautiful visualisations." -- Theolyn Cortens, author, 'Working with Your Guardian Angel'
"I can't think of a better person than Kathleen Pepper to write a book about angels" --Jenny Dent, White Eagle Lodge
"With what appears to be a huge interest in angels at the present time, this book gives answers to a lot of the questions that this interest has aroused. It is an absorbing, thought-provoking book which will captivate you if you are looking to learn more about angels and how to work with them.
Whilst there is a lot of information contained in the book, it is written in a clear and uncomplicated way, each chapter opening a new door into the world of angels. From a detailed introduction to angels, the book takes us through many different areas including the work of angels with healers working with colours, crystals and planetary healing.
With each chapter there are meditations and throughout there are personal accounts of the help and support of angels, which I found particularly fascinating and moving.
The book is filled with colour, containing some stunning illustrations and photographs.
Kathleen has presented us with a book to treasure that will no doubt become a valued part of many a collection."
Lorraine Walton in Friends of Yoga International News
HAND IN HAND WITH ANGELS
"'Write about us', said the angels to Kathleen Pepper, in the Prologue to her beautiful book, Hand-in-Hand with Angels, 'Write our messages. Our messages need to go out into the world.' They explained that we are going through a time when the angels are drawing very close to the earth plane and 'it is time for everyone to build a partnership with them. . This will make it possible to begin to heal the problems on the planet. Once again, people need to begin to live and work in an ethical and sustainable way…. Angels will work to help us to heal our own lives – and by healing ourselves, we can heal those around us.'
This has been my experience too. Being blessed to have been brought up in the White Eagle Lodge, I was encouraged, from as early an age as I can remember, to be open to the presence of the fairy kingdom and of angels, in particular my own guardian angel. I remember seeing great beings of light around my bed as I went to sleep at night, and speaking within my own heart to my guardian angel was as natural to me as talking to my best friend. Actually I did also have a friend who was a gnome and lived in New Lands garden; to me he was as real as a human being. He looked more 'physical' than the angels, more like a spirit guide or loved one who has passed over: they all look more solid and 'human' than angels, like a person with very clear transparent skin and hair illumined from within by a light bulb. Angels are more like vortices of light, though often with beautiful soft feathers in their wings. The picture on the cover of Kathleen Pepper's book, and the ones on pages 57 and 137 are close to how angels appear to me, though they do appear in different forms to different people.
Being aware of, and communicating with, angels, was the greatest comfort to me as a child, and something that I have passed on to my own three daughters and my grandchildren. I have never forgotten the true story that my mother (Joan Hodgson) told me about angels. When she was about 12 years old, and living in Australia, she had the task of filling the heater with paraffin, something she did practically automatically each day. Then on one particular day, as she lifted the oil can as usual, her guardian angel said to her: 'stop! Smell it!' She did so, and realised it was different from normal: her father had put a can of petrol by the stove by mistake! The angels saved her life that day. To be encouraged to use one's 'inner vision' to see the angels, and to learn to trust one's 'inner voice' from childhood is, I believe, one of the greatest gifts a parent can give a child, a rare blessing indeed.
Yet this gift can be developed at any age, and Kathleen's book is full of encouragement, with much practical as well as spiritual advice and information, all given in a loving, inspiring and non-judgmental way. In fact, just reading the book, or dipping into it at random – trusting that you will open it at the right page – brings the angels very close and is an uplifting and joyful experience. Truly, anyone can open themselves to the companionship and guidance of the angels.
I have found that you don't need to stand on ceremony with angels, nor to be in awe of them (though you will indeed be awed by some of the amazing ways they begin to help you and interact in your life). All you need is to believe in them and have the desire to communicate. Ask them to show themselves to you; be prepared to use your 'inner vision' which might even seem like your imagination at first, and be open to the little voice that speaks within your own heart. The more you trust yourself on these things, the stronger the impressions will become. Kathleen gives many helpful processes and tips to help you to draw the angels closer and to become aware of their presence in your life.
My advice is don't worry about names and the roles of the angels; I often just pray 'dear angels' and ask for help in whatever sphere I need it. As time goes by, you'll get to know them individually and recognise the way the different angels act. The main thing is to be open to them, and to communicate with them, simply, from your heart, and always to remember to thank them for their help. Kathleen explains all of this beautifully in her section on 'Seeing Angels'.
Once you start communicating, you'll see the angels more and more and they will become as familiar to you as your physical family and friends. You may find that they communicate with you in quite quirky ways by showing you certain symbols or numbers, or sequences of numbers that will become meaningful to you. You will certainly be aware of their love and help in your life, and it's a good idea to keep a record of their interactions with you, because it's easy to forget the many daily miracles that occur. Always ask your angels for help. Even ask for 'reinforcements' if you feel you need them! They are always there and willing to help, and they are unlimited in their numbers – there are plenty of help everyone. Life becomes pure joy when you walk 'hand in hand with angels'."
Rose Elliot in Stella Polaris
About the Author
Kathleen Pepper has been working with angels since she had an angelic vision in 1976. Hand in Hand with Angels is based on the tried and tested techniques that she has developed on angel workshops, which she has been facilitating since 1998. Her professional background is in education and she began to teach yoga and meditation over 30 years ago. She has trained over 80 yoga teachers in her safe, gentle and harmonious approach to modern spirituality.
Kathleen is a qualified aromatherapist, and her first book, Essential Oils and Meditation (Polair, 2007) gave advice on how to develop safe methods of meditation and visualization alongside the use of essential oils. She is a qualified spiritual healer in the White Eagle Lodge team in London, England and a teacher trainer with the White Eagle School of Meditation.