Enhance your meditation by choosing the right essential oils
ESSENTIAL OILS AND MEDITATION

LET FRAGRANCE GUIDE YOU

- Kathleen Pepper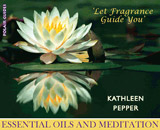 The experience of meditation can be heightened by burning essential oils. Oils prepare the mind and body for meditation. They clear the internal and external landscape of unwanted distraction. They may help to lead meditation in a chosen direction, and they may stimulate awareness of angelic presences and beings of light.
This helpful book also covers the associations of the oils with the chakras, and for each there is a priceless guided meditation to help the reader establish a true contact with higher inspiration. Advice is given on sourcing the oils and using them safely.
Kathleen's personal journey has made her expert in the effect of the oils. In Essential Oils and Meditation she has written from her own deep intuition and experience.
978-1-905398-12-6
Body, Mind & Spirit /Self-Help
£6.99/Paper
26 line illustrations by Bodel Rikys
64 Pages/178 x144 mm

Reviews
"I wanted to tell you how much I am enjoying your book on meditation and essential oils." ––Su Fox, author of books on the therapeutics of massage
"I can recommend Kathleen's new little book very highly. It is an inspiration for anybody looking for a meditative experience in a format that can be at hand at any time." ––Friends of Yoga newsletter
About the Author
Kathleen Pepper is a lifelong teacher. She had many years' experience in schools before she left to run her own centre in West London, England, for meditation, yoga, aromatherapy and zero balancing, called Keys to Light. She is also a volunteer spiritual healer at the White Eagle Lodge in Kensington, London, and is a teacher trainer with the White Eagle School of Meditation.