The Polair Illustrated Yoga Dictionary

NEARLY 1500 SANSKRIT AND ENGLISH TERMS EXPLAINED

- Janita Stenhouse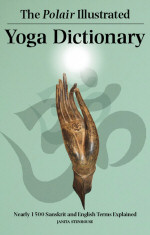 A comprehensive dictionary of terms used in yoga asanas and in yoga philosophy generally, along with some accompanying Hindu and Buddhist words and reference illustrations of asanas, chakra symbols, and yoga physiology. Almost every posture known is here. English terms and posture names are also explained.
This is also an encyclopedic dictionary giving names and dates of key teachers and yoga authorities. Full diacritical marks are shown on the Sanskrit names, for reference.
As the preface states, 'This is a dictionary of terms you may come across on your yoga journey ... it is comprehensive enough to help you in your search for inner peace through yoga.... Sanskrit is the only language that does not take its name from the people who spoke it. The very word Sanskrit implies something put together perfectly, refined and cultured, and the written form is called ... 'the writing of the gods'.
978-1-905398-17-1
Yoga
£9.99/US$14.95
Paper
160 Pages/216x138mm
200+ B&W Illustrations

Reviews
"I have had no hesitation in recommending The Polair Illustrated Yoga Dictionary to my yoga students and graduate teachers. If you are a teacher, it is a book that can be kept in the yoga bag with the mat and other yoga equipment, and go everywhere with you." ––Friends of Yoga International News
About the Author
Janita Stenhouse (BWY, FNEY, ICYER, YBT, Dip Des (Lpl)) has over forty years of yoga experience. She is author of Morning Yoga, Evening Yoga (also for Polair), Sun Yoga: the book of sûrya namaskâr, and of many articles on yoga. Her yoga cartoon series appear in French and Australian magazines, including the British magazine Yoga and Health. She lived for several years in India and returns regularly, and now lives in the Massif Central France where she teaches yoga locally, nationally and internationally.