LIFE CYCLES

HOW THE PLANETS AFFECT YOU AND ME AND THE RICH AND FAMOUS

- Rose Elliot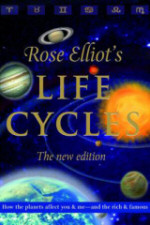 A guide to the big moments in your life - which astrologically are governed by when the planets come back to the same place in the sky they were in when you were born. Have you ever wondered why people so often have rebellions in their teens, big changes at the end of their twenties or mid-life crises in their forties? Rose Elliot describes how the motions of the planets coincide with major life events from birth to over 100 with many real life examples and shows
The 'cycle of luck' which worked for Harry Potter author J.K. Rowling, popstar fundraiser Bob Geldof and Bodyshop founder Anita Roddick - and how you can tap into it too
How critical points in their cycles brought Brad Pitt, Angelina Jolie and Jennifer Aniston together - and tore them apart
The cycle which made Princess Diana unable to 'live a lie' any more - and made Victoria and David Beckham change direction
From these and hundreds of other examples, discover which planets are affecting you now and how you can harness and make the most of their energies. Empowering as well as insightful, Life Cycles makes this ancient science accessible to all...
978-1-905398-15-7
Body, Mind & Spirit/Self-Help
£10.99/US$15.95
Paper
176 Pages/234x156mm
Diagrams and graphs
Buy Life Cycles GBP

Buy Life Cycles USD

Available for Kindle from Amazon, or as an eBook isbn 978-1-905398-41-6
Reviews
"Life Cycles does bridge a gap between the glossy sun-sign volumes and the more specialist astrological literature. It is well-informed, easy to read, and approachable at any level." - Paul Newman, The Astrological Journal
About the Author
Rose Elliot is the author of over fifty vegetarian cookbooks, and has her own feature page on Amazon.com. She has written for BBC Books, Harper Collins and Hamlyn, and The Independent has called her 'the Queen of Vegetarian Cooking'. Together her books have sold around 4,000,000 copies. Daughter of astrologer and writer Joan Hodgson, and grand-daughter of famous medium and seer, Grace Cooke, Rose started learning astrology when she was in her teens and, aged 19, was one of the youngest astrologers to gain the highest recognized qualification in the UK, the diploma of the Faculty of Astrological Studies.