Comprehensive flower essence reference with unique prescription key
CENTAURY FOR VIRGO, ROCK ROSE FOR PISCES

The complete home reference

- Debbie Sellwood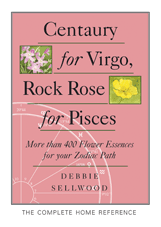 Since Edward Bach produced his first set of flower remedies in the 1930s, whole new series of them have been developed - such as the Australian Bush Essences, the Findhorn Essences, and the Petit Fleur range. A dazzling 400 of them - the most commonly available - are dealt with in this book.
Yet Debbie Sellwood has found a whole new tool for their prescription, which is by your astrological sign. The zodiac is a real and effective way to understand what will particularly work for you. Vibrational medicine comes into its own with the subtle understandings this book provides. Choosing remedies the Sellwood way is also a wonderful aid to self-understanding.
Centaury for Virgo, Rock Rose for Pisces is a book about an inward path, not just about treating a condition. The complete home reference, it is also a wonderful tool for therapists and practitioners.
978-1-905398-13-3
Alternative Medicine/Health & Fitness
£12.99/US$19.95
Paper
288 Pages/244x174mm
Buy Centaury For Virgo, Rock Rose for Pisces GBP

Buy Centaury For Virgo, Rock Rose for Pisces USD

Reviews
"A well-crafted and useful combination of the two subjects. Debbie avoids the usual formulas, preferring a more subtle investigation into the thoughts and feelings of each Star sign." -- Julian Barnard, author of Bach Flower Remedies, Form and Function
"I am delighted to be able to recommend the first comprehensive in-depth study on the transformational effect of flower essences." -- Clare G. Harvey, author of The New Encyclopaedia of Flower Remedies
About the Author
Debbie Sellwood was born in Surrey, UK and now lives in a small Hampshire village, the mother of three grown-up children. Working in the computer industry for many years, she was involved in the logical, rational world until an increasing awareness of 'the bigger picture' prompted her to pursue the study of astrology. Later she entered the field of vibrational medicine. She has a Diploma from the White Eagle School of Astrology and is Treasurer of the British Flower and Vibrational Essences Association, and has written widely for the astrological, personal development and parenting press.