Good breathing is easier than thinking!
DON'T HOLD YOUR BREATH

A guide to good breathing

- Jenny Beeken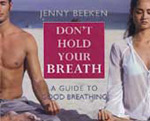 An inexpensive and accessible guide to breathing and its effects on health.
To breathe is to live, and yet we all take breathing for granted. In this unique book, Jenny Beeken helps us to understand how we breathe, and why most of us don't breathe effectively, so depriving ourselves of energy and vitality. Effective breathing is also the key to profound relaxation and deep meditation. It is the key to how we cope with the stresses and strains of everyday life.
In this illustrated guide, Jenny describes exercises and techniques that lead to better breathing. With a little daily practice, we can all feel more energetic and alert, relaxed and de-stressed, fit and healthy. The practices described require no other knowledge than is given in the book, and they can be used alongside other therapies to enhance their effect.
Don't Hold Your Breath offers to transform our bodies, lives and consciousness and is a unique contribution to self-help literature.
978-0-9545389-9-6
Health & Fitness/Yoga
£6.99/US$11.95
Paper
64 Pages/178 x144 mm
Line illustrations by Janita Stenhouse; photographs
Buy Don't Hold Your Breath GBP

Buy Don't Hold Your Breath USD

Reviews
Thought breathing was one bodily function you didn't have to worry about? You may be doing it all wrong. Beeken is a yoga expert who believes that we all, erm, take breathing for granted. Learn some breathing skills, she says, and you can feel more energetic, relaxed and healthy." -- The Independent, London
"Out of Breath? Want to improve your pranayama techniques? Then get hold of a copy of Don't Hold your Breath, a guide to good breathing." -- Yoga Magazine
"I recommend this little book with its clear illustrations and lovely photographs of the sea as a valuable guide to good breathing practice and the importance of the awareness of our breath. I think it would help anyone to become more whole." -- Positive Health
About the Author
Jenny Beeken is the founder and principal of the Yoga of the Heart School, which trains yoga students in the awareness they need as teachers. Jenny has given classes all round the world, including the USA, Greece and Turkey, along with specialist breathing workshops. The Yoga of the Heart School is based in Petersfield, Hampshire, UK, where Jenny has a grown-up daughter, Beth. She has trained with Shri B. K. S. Iyengar in India, and with Angela Farmer, Victor van Kooten and Kofi Busia.