Answers every question for seekers on this special path of sound
WORKING WITH SINGING BOWLS

A SPIRITUAL JOURNEY

- Andrew Lyddon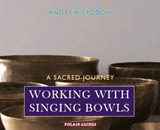 A book to enable every individual to find contentment and self-realization through the power of sound. Tibetan singing bowls have a noble origin, one which Andrew Lyddon utterly respects in guiding the user into a practice to enhance meditation and enable spiritual growth. It is the path of nada yoga, or union through sound.
Andrew's writing, however, is utterly practical and he deals one by one with every question the aspiring player of singing bowls might want to ask.
978-1-905398-10-2
New Age/Music
£6.99/US$11.95
Paper
Illustrated with photographs
64 Pages/178 x144 mm

About the Author
Andrew Lyddon came to singing bowls after hearing such masters as Frank Perry play at the White Eagle Lodge. He gives sound workshops himself, and is a mental health social worker.