'It is the journey of the yoga postures and the movement you get in doing them, not the final pose, that is important'
YOUR YOGA BODYMAP

MOVE AND INVIGORATE BODY AND MIND

- Jenny Beeken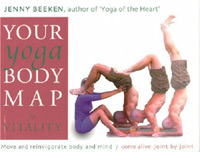 A yoga manual designed for the lively body and the lively mind. Jenny Beeken is an exceptional teacher, renowned across the world for her focus on body awareness.
Your Yoga Bodymap offers a new concept among yoga books in focusing directly on the living, breathing, moving body, taking it joint by joint and limb by limb. You will feel more alive, more flexible, as you follow Jenny's instructions. Sporting performance should improve, while those with illnesses or infirmities can learn what poses might bring help and aid recovery. If the philosophy of yoga is to make your body come alive, then Your Yoga Bodymap is your passport to vitality.
Easy-to-follow instructions and stop-action photographs make this one of the most informative of yoga manuals. All students, from complete beginners to the more knowledgeable student, will gain special insights from the new approach offered.
978-0-9545389-1-0
Yoga
£15.99/US$24.95
Paper
160 Pages/246x186mm
Full colour illustrations on every page
Buy Your Yoga Bodymap GBP

Buy Your Yoga Bodymap USD

Reviews
"This is a beautifully-written and presented book. Each posture is designed to be done at different levels according to ability and to feel how the areas of the body change and move in the process. Highly recommended." - Yoga Scotland
"An excellent book for a skeletal detox. With a newly-awakened body, you might just begin to look beyond those revealing trousers." - www.pages4women.com
"Jenny Beeken is a world-renowned yoga teacher ... her approach is very practical, as it teaches the most relevant postures in detail, while also enriching us with advice on how we can better use our bodies in everyday circumstances to increase health, healing and our natural energy levels." - Odyssey (South Africa)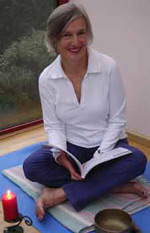 About the Author
After she first discovered yoga over thirty years ago, Jenny Beeken studied in India with Sri B. K. S. Iyengar and subsequently with Angela Farmer and Victor van Kooten. She has been teaching in Britain, the U.S.A. and Ireland for thirty years, and has run courses in Greece, Turkey, France and Spain. She lives in Petersfield, under the English South Downs, with her daughter, and is Founder and Principal of the Heart Yoga School. This is her second book; she has also written Yoga of the Heart, Don't Hold your Breath, Ancient Wisdom and a companion to this volume, Your Yoga Birthguide (with Sally Townsend).