YOUR YOGA BIRTHGUIDE

The essential reference for midwives, yoga teachers and mothers-to-be

- Jenny Beeken and Sally Townsend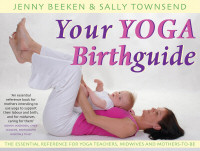 Sally Townsend and Jenny Beeken write as a midwife and an experienced yoga teacher. Both are mothers too, and they guide you through conception, all three stages of pregnancy and the birth itself. Your Yoga Birthguide is unique in adding a professional perspective in a yoga manual, and the authors are able to make really informed suggestions about enhancing pregnancy with yoga awareness.
Jenny and Sally treat each three months period of the pregnancy on its own, setting asanas alongside relaxation and breathing techniques, and show mothers-to-be how to adjust to the physical demands of labor and give birth with minimum strain. Practising yoga improves strength, body and breath awareness, is good for keeping the body supple, fit and relaxed without straining, and can be used to relieve pain in labor, thus easing childbirth. The book also offers wisdom about miscarriage, termination and IVF. There is special advice for yoga teachers, and for health professionals. Your Yoga Birthguide is a trusted reference of essential professional advice for yoga teachers, midwives, and mothers-to-be and even dads.
978-1-905398-19-5
Yoga /Parenting
£14.99
Paper
160 Pages, 246x186mm
Over 200 Colour Photos
For copyright reasons this edition is not for sale in North America
Buy Your Yoga Birthguide GBP

Buy Your Yoga Birthguide USD

Reviews
"An essential reference book for mothers intending to use yoga to support their labor and birth and for the midwives caring for them." - Donna Ockenden, Chief Midwife Portsmouth Hospitals Trust UK
"Every page reveals the wonder of childbirth and the resourcefulness of the mind, the body and the spirit." - Jill Pooler, Midwife and Specialist Community Publc Health Nurse
"A very valuable book both to those wanting to use yoga throughout their pregnancy into birth and beyond, and those seeking detailed medical advice on what to expect and how to deal with each stage." - Yoga and Health
About the Authors
Jenny Beeken has been teaching yoga to pregnant women for nearly thirty years and seen them flourish and bloom through their practice. She has established the Inner Yoga Trust and Inner Yoga School to train teachers in yoga awareness. She has given special attention to remedial yoga, dealing with students with special needs and problems, and is the author (for Polair) of Don't Hold your Breath, Your Yoga Bodymap for Vitality and Ancient Wisdom.
Sally Townsend was a Registered Midwife for over twenty years before her death in May 2008, and during this time personally delivered over a hundred and seventy babies. This book demonstrates her wonderful skills as a midwife and a teacher. Sally developed and ran the first pregnancy module for the Inner Yoga School alongside Jenny in 2006/7. She brought to the Inner Yoga Trust's courses an in-depth experience and comprehensive knowledge of the anatomy and physiology of the mother and baby during pregnancy.