Translated from the French for the first time, alongside the first edition of the Polaire Bulletin of 9 May 1930
ASIA MYSTERIOSA

The oracle of astral force as a means of communication with 'the Little Lights of the Orient'

- Zam Bhotiva

With a preface by Colum Hayward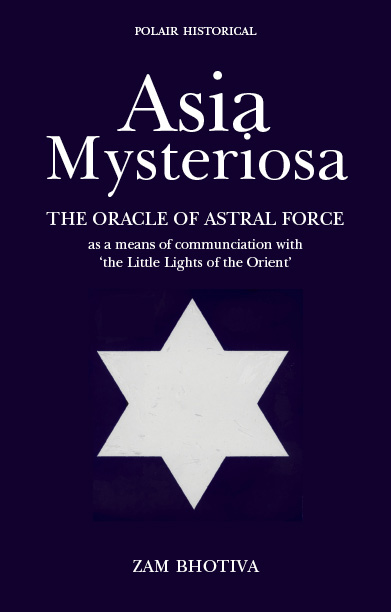 ASIA MYSTERIOSA is a most unusual contribution to esoteric literature. Dating from 1929, it describes a mathematical oracle said to have been given to a young Italian boy 21 years before, in unusual circumstances. When asked a carefully considered question, the operator of the Oracle transforms it into a numerical sequence, performs calculations, and eventually comes back with an answer. A surprising number of Parisian intellectuals avowed its answers to be both deeply sensitive and inspiringly accurate. Instructions from the Oracle led to the formation of the oft-mentioned but little understood Polaire Brotherhood.
The actual working of the Oracle was deemed too dangerous a commitment to be shared, yet Asia Mysteriosa comes close to giving the game away – and is, in this sense, as intriguing a document as anything the DaVinci Code offers us. English has waited over eighty years for a translation, and this new edition will not disappoint. It argues for the document's significance, and that it should be taken seriously. The preface by Colum Hayward is very carefully researched, and instead of presenting the Polaires and their Oracle as something freakish and bizarre, Colum adds enormously to the body of information we have about the Polaires and the author of Asia Mysteriosa, Zam Bhotiva. As for their Oracle, it may even take us to the heights.
Outside of what Colum charts in his Preface, there is not an enormous amount we know about the author of Asia Mysteriosa, Zam Bhotiva (Cesare Accomani), although some of his letters survive. Even his birth and death are unknown, but he wrote Du Magnétisme Personnel in 1909 and went on to write La Magie dans l'Art du Chant in 1932. The letters continue into the 1950s.
Polair Historical
978-1-905398-27-0
Body, Mind & Spirit/Divination
£12.99/Paper
160 Pages
216 x 138 mm
1 September 2012
Buy Asia Mysteriosa GBP

Buy Asia Mysteriosa USD